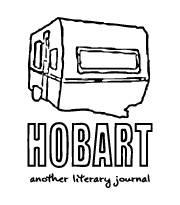 September 29, 2023 |
Elizabeth Ellen
Something about the auto workers strike –
Something abt how & why I was a cunt…
September 29, 2023 | Fiction
Daisy Alioto
Men are tyrants with their time; but women are tyrants with the eternal.
Mark Blickley
you might smell donkey and driver if the dung laced breeze blows up your nose as my body quivers with new found knowledge of time
September 27, 2023 | Poetry
Gina Tron
i make prices
i blend into aisles
i am a bottle of stool softener
September 26, 2023 | Nonfiction
Will Goodwin
Everyone worries about mind control.
September 25, 2023 | Fiction
Robert Nazar Arjoyan
Wafts of ancient loam and wet wood. He had viewed it all with sickening fascination, the swiftness with which something so solid could be torn asunder, cored completely.
Recent Books
Elizabeth Ellen
"It captures all the doubts, giddiness, confessional streaks, blabbiness, self-alarms, rationalizations, feigned equipoise, and instantly breakable resolves of a person freshly infatuated and likely in love." -anonymous writer friend
Elle Nash
"Transgressive and immediate: you feel these stories shoot through and wrap around you."
- Kyle F. Williams, Full Stop Magazine
Garielle Lutz
"Lutz's work is a marvel of the possibilities of language. Each of her sentences is an intricately crafted thing, deeply complex yet crystalline in its clarity . . . her command of each and every word remains supreme."
--Mira Braneck, The Paris Review Daily
Garielle Lutz is the author of The Complete Gary Lutz, among other books.