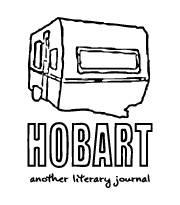 May 29, 2020 | Fiction
Josh Sippie
The top of Yoda's house looked like it had been splattered with molded yogurt. There was an allure to it. Like, had he intended to paint it this odd assortment of colors, he would be proud of it.
May 29, 2020 | Poetry
Haley Winkle
last month, every
robin I saw looked
like it wanted to fight
May 28, 2020 | Fiction
Flo Au
In her dance, Chang'e waves her sleeves to disperse the surrounding mist.
May 28, 2020 | Poetry
Tyler Friend
Your boyfriend was the first...
news:
No news is good news!
Recent Books
Saul Stories
Elizabeth Ellen
"Simply one of the best writers alive in the world today."
– Scott McClanahan, author of The Sarah Book, Crapalachia, and HIll William
currently ON SALE for $19!
Legs Get Led Astray
Chloe Caldwell
"Legs Get Led Astray is a scorching hot glitter box full of youthful despair and dark delight. Tender and sharp, wide-eyed and searching, these essays have a reckless beauty that feels to me like magic."
—Cheryl Strayed, author of WILD
currently ON SALE for $11.95!