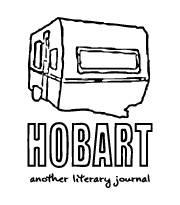 Elizabeth Ellen
Becca, Ernie's wife, estranged wife most of the novel until finally she is his ex-wife at the end, based on the author's, based on Aaron's, ex-wife, Elizabeth Ellen, who is, oddly, metally, writing these words, typing them into a Word doc at nine in the morning
Christian Bodney
I wake up glad to not be strung out.
I wonder how my drug dealers are doing.
Elizabeth Ellen
-Editor at a literary journal attempting to be good, moral ppl (see: 1990s Christian Right)
October 10, 2022 | Poetry
Miss Unity
The other thing Belle did
Was burn three holes in my thigh
With her cigarette
Revenge for the chaos I'd caused
October 9, 2022 | Fiction
Garielle Lutz
He had a little radio, and on the mornings it snowed, he listened over and over to the lists of school closings until he knew them by heart: Kellerville area, Longstead area, Mount Holly area, all the outlying place-names, all the Our Lady of's. Sometimes there was only a two-hour delay, and he wondered what it must be like, to have the boon of two extra hours like that.
Recent Books
Elizabeth Ellen
"It captures all the doubts, giddiness, confessional streaks, blabbiness, self-alarms, rationalizations, feigned equipoise, and instantly breakable resolves of a person freshly infatuated and likely in love." -anonymous writer friend
Garielle Lutz
"Lutz's work is a marvel of the possibilities of language. Each of her sentences is an intricately crafted thing, deeply complex yet crystalline in its clarity . . . her command of each and every word remains supreme."
--Mira Braneck, The Paris Review Daily
Garielle Lutz is the author of The Complete Gary Lutz, among other books.
Elizabeth Ellen
"[Her Lesser Work] is a collection of mordant and formally inventive stories circling themes of, let's say, desire and escape within repressive structures."
-Walker Caplan, Literary Hub
"Her Lesser Work is full of power and it takes risks and it's alive and real and it fixes a very sharp eye on the shit humans do to each other and themselves."
-Lindsay Lerman, LitReactor