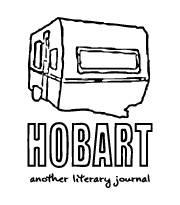 Showing results for Novel Excerpt
December 2, 2020 | Novel Excerpt
Luke Wiget
There were no ornaments for the tree but there was beer.
January 8, 2015 | Novel Excerpt
Greta Schuler
Edith stood close by in case they needed her, but stared out the doorway at the pickup truck.
Recent Books
HARDCORE
Mik Grantham
"Mik Grantham is a real killer. One of my favorite artists working today. HARDCORE is not hard to read"
- Bud Smith, author of Teenager (Vintage)
Her Lesser Work
Elizabeth Ellen
"Her Lesser Work is far and away my favorite of your books, and 'G.O.A.T' in particular is a blast of brilliance."
-Garielle Lutz
"Um, is 'Plant Hospital' both the hottest story and the hottest piece of literary gossip of the decade?!"
-Rebecca van Laer
Worsted
Garielle Lutz
"Lutz's work is a marvel of the possibilities of language. Each of her sentences is an intricately crafted thing, deeply complex yet crystalline in its clarity . . . her command of each and every word remains supreme."
--Mira Braneck, The Paris Review Daily
Garielle Lutz is the author of The Complete Gary Lutz, among other books.