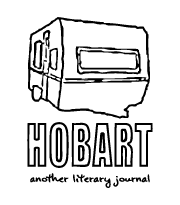 November 19, 2018 | Fiction
William Lessard
The old woman takes another bite.
November 19, 2018 | Poetry
Sarah Carson
My sister has been reading a lot about her pores lately. At the moderately priced tourist town spa where we've met for the weekend, a commercial for the dual action microdermabrasion brush comes on the television above the hot wax station, and she swears their blackhead diagram is incomplete.
November 16, 2018 | Fiction
Jessie Carver
A man's life reduced to 78 words. You counted.
Alyssa Oursler
In my favorite bookstore in a city where I no longer live, there's a sign for sale that says: when in doubt, turn... more
Recent Books
Elizabeth Ellen
Elizabeth Ellen
A 400-page collection of poems in fours sections: Nicki Minaj Songs, Bob Dylan Songs, Elliott Smith Songs, and 90s Riot Grrrls Songs.
Legs Get Led Astray
Chloe Caldwell
FOUR NEW ESSAYS BY CHLOE CALDWELL! Plus the original essays that made you fall in love with Chloe!
Dualities
Jason Phoebe Rusch
Jason Phoebe Rusch is a queer writer from the Chicago suburbs. His full-length debut Dualities explores gender and patriarchy from the perspective of a man who was socialized and is currently still read as a woman. He is interested in complication and nuance and messy human failing, his own and that of others.