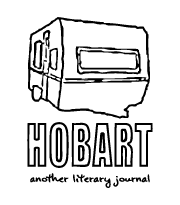 July 20, 2018 | Poetry
Eugenia Francis
First Week of April, Los Angeles
(as transcribed from the iCalendar "what really happened")
1
got... more
July 19, 2018 | Fiction
Matt Basiliere
And it was at that moment—seeing that light and realizing that other people were together in the world in that very same light while he was in an alley watching himself on TV—that he finally felt something: an overwhelming, honest and simple sense of sadness that felt like a beautiful release.
Savannah Brooks
At eighteen I got two stars tattooed on my ankle. I used to tell people a variety of stories: they were falling stars, they were the stars from... more
Recent Books
Elizabeth Ellen
Elizabeth Ellen
A 400-page collection of poems in fours sections: Nicki Minaj Songs, Bob Dylan Songs, Elliott Smith Songs, and 90s Riot Grrrls Songs.
Legs Get Led Astray
Chloe Caldwell
FOUR NEW ESSAYS BY CHLOE CALDWELL! Plus the original essays that made you fall in love with Chloe!
Dualities
Jason Phoebe Rusch
Jason Phoebe Rusch is a queer writer from the Chicago suburbs. His full-length debut Dualities explores gender and patriarchy from the perspective of a man who was socialized and is currently still read as a woman. He is interested in complication and nuance and messy human failing, his own and that of others.