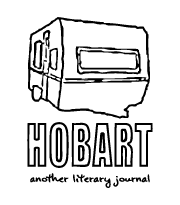 Cordelia Wilks
By the time the keys were in my eager teenaged hand, this car had been through some shit. Even ignoring the holes burned into the driver's-side door, the missing half of the left side mirror, and the warped, discolored metal down the rest of the vehicle, the car was 13 years old already, and it looked it.
Andrew Forbes
The cherry and strawberry seasons have passed; the apples are reddening. Only a few games remain. A Pit Spitter lays down a bunt, and the runner on third crashes in: a perfect suicide squeeze.
September 13, 2019 | Poetry
Brian Clifton
All that whimpers isn't want.
One spring, I pulled
a reed from an oboe.
I planted it by a pond. 
Instantly, it... more
September 12, 2019 | Nonfiction
Paige Thomas
There is snow that falls like a snake. It comes from the sky hissing and finds a bush to hide beneath. The leaves on the branches of the River... more
Recent Books
Elizabeth Ellen
Elizabeth Ellen
A 400-page collection of poems in fours sections: Nicki Minaj Songs, Bob Dylan Songs, Elliott Smith Songs, and 90s Riot Grrrls Songs.
ON SALE for only $5 through June 15!!
Legs Get Led Astray
Chloe Caldwell
FOUR NEW ESSAYS BY CHLOE CALDWELL! Plus the original essays that made you fall in love with Chloe!

ON SALE for only $5 through June 15!!
Saul Stories
Elizabeth Ellen
Saul Stories is a linked collection that explores the relationships between a forty-year-old female artist, her teenaged daughter, and her daughter's friends. With ferocious realism, the book interrogates how children of differing classes and races are treated in the U.S., and the salacious and skeptical ways the current culture views cross-generational friendships. But most potently—in narratives taking place in Denny's and movie theatres and living rooms and cars—Saul Stories wonders what it means to be a woman and an artist and a mother, all at once.