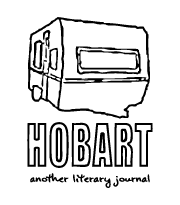 Showing results for Tv
November 3, 2014 | TV, Fiction
Christian Hayden
The Mortadella
Sometimes when my husband and I argue he eats... more
July 8, 2014 | TV, Poetry
Sarah Blake
I imagine Temperance Brennan's annual gynecological exam might go something like mine: If you're not finding time to eat, you must not be having a lot of... Are you seeing anyone right now?
May 20, 2014 | TV, Nonfiction
Amanda Goldblatt
I 
I wake up one morning and want to read Woolf. Being a woman writer. Is being a woman-who-is-a-writer something to consider,... more
Recent Books
Elizabeth Ellen
Elizabeth Ellen
A 400-page collection of poems in fours sections: Nicki Minaj Songs, Bob Dylan Songs, Elliott Smith Songs, and 90s Riot Grrrls Songs.
Legs Get Led Astray
Chloe Caldwell
FOUR NEW ESSAYS BY CHLOE CALDWELL! Plus the original essays that made you fall in love with Chloe!
Saul Stories
Elizabeth Ellen
Saul Stories is a linked collection that explores the relationships between a forty-year-old female artist, her teenaged daughter, and her daughter's friends. With ferocious realism, the book interrogates how children of differing classes and races are treated in the U.S., and the salacious and skeptical ways the current culture views cross-generational friendships. But most potently—in narratives taking place in Denny's and movie theatres and living rooms and cars—Saul Stories wonders what it means to be a woman and an artist and a mother, all at once.