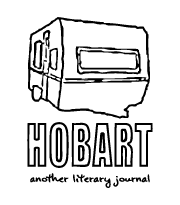 Showing results for Tv
November 3, 2014 | TV, Fiction
Christian Hayden
The Mortadella
Sometimes when my husband and I argue he eats... more
July 8, 2014 | TV, Poetry
Sarah Blake
I imagine Temperance Brennan's annual gynecological exam might go something like mine: If you're not finding time to eat, you must not be having a lot of... Are you seeing anyone right now?
May 20, 2014 | TV, Nonfiction
Amanda Goldblatt
I 
I wake up one morning and want to read Woolf. Being a woman writer. Is being a woman-who-is-a-writer something to consider,... more
Recent Books
Saul Stories
Elizabeth Ellen
a set of linked stories with some of the same characters from Person/a and a lot of new ones and the world is the same but different from the world in Person/a and the stories take place in a year absent from Person/a. if that makes sense. contains the Pushcart Prize winning story "Teen Culture" from American Short Fiction, if that's something that moves you to buy books. <3
Legs Get Led Astray
Chloe Caldwell
FOUR NEW ESSAYS BY CHLOE CALDWELL! Plus the original essays that made you fall in love with Chloe!
Dualities
Jason Phoebe Rusch
Jason Phoebe Rusch is a queer writer from the Chicago suburbs. His full-length debut Dualities explores gender and patriarchy from the perspective of a man who was socialized and is currently still read as a woman. He is interested in complication and nuance and messy human failing, his own and that of others.